If you are thinking about getting into paintball, want to learn more about the sport, or want to see what products we are into, check out these sites.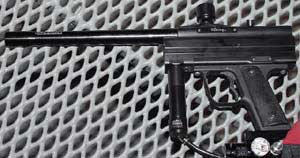 This is an AKALMP Viking, the BEST open bolt electropneumatic marker in the world.
Some of our favorite sites.
PBnation.com This is THE place for paintball info. PbNation is what could be called the paintballers online meca. Check it out.
WARPIG.com The original paintball website, and still one of the best. TONS of info, updated almost daily, very good site.
PBreview.com great site to read, and write reviews about ALL kinds of paintball gear, from markers to neck protectors, it's all there.
Action Pursuit Games APG magazine, but only on the internet, need I say more?

Gator Joe's Paintball Supply Our Local playing field and Paintball supply store.

AKALMP Maker of the BEST Electropneumatic markers(the Viking and Excalibur) on the market.

Dye Makers of the famous Titanium Boomstick Barrel, and the Invision goggle system.
Extreme Rage This is the company to choose if you want quality packs, pods, and aftermarket parts.
Paintball Junkies They make some of the coolest jerseys, hats, and bandanas around.
.
Evil Paintball.com Makers of some of the most inovative gear in paintball, including the brand new PIPE barrel system(very awsome), and EVIL Paint (you know, the stuff all the pros win with). Definately check this one out!
Odyssey Paintball This is the company that makes THE BEST loader on the market, the H.A.L.O. B. Check it out!
RPS paintballs One of the largest manufacturers of paintballs in the world, with over 10 diffrent types of paint, they are also one of the best.